Torrie
He is the head coach of the Fitness Love ATL team. Having been involved in sports his entire life, he tries to inspire all with a "Party never stops!" attitude & says this often during class. When offered up an excuse by members during class, he is quick to remind them that "sexy doesn't care" which usually helps the reality of the situation come back into play in a comedic fashion. He shows love all the time & dedicates his time & energy to teammates to prove it!
---
Jenna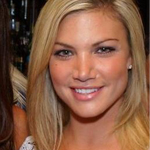 Jenna has been involved with Fitness Love for 5 years now & joined the team full time in January 2014 to keep the good times rolling. As head female trainer, you can find her in the gym motivating the team! She recently passed her crossfit level 1 certification and her passion for lifting weights shows inside the gym. Outside of class she also heads race day signups & Sunday morning run clubs.
When Jenna is not working. she can be found enjoying time with friends & family and acting in small movies. Her latest role was waitress in the new Owen Wilson and Vince Vaughn film, "The Internship."
---
Allie

Allie joined the Fitness Love team full time in the fall of 2013. Before joining the staff, she was a bootcamper for 2 and a half years. Allie is the head of the meal plan and in charge of all things food. In addition to her duties in the kitchen, Allie coaches run camp and can be found in the gym in the mornings. Allie resides in Sandy Springs and loves hanging out with family, friends, and her dog when she's not working. She's a proud UGA alumni and loves to make it up to Athens whenever she has a chance.



---

Chesley



Chelsey joined Fitness Love as a boot camper 2 years ago, and joined the team as a part time trainer in the Fall of 2014. She assists with evening classes during the week. Chelsey enjoys traveling and spending time with her family and friends. She grew up in small town Tennessee and loves going back to visit!